Welcome to
T-Amore Shih Tzu!
Inspected and Approved By The American Kennel Club

Puppies still available in Yuki and Eiko litters.
(TO GET ON THE WAITING LIST, PLEASE COMPLETE A PUPPY APPLICATION.
MORE PUPPIES ARE EXPECTED IN JANUARY.)

Spay/neuter is REQUIRED
Effective January 1, 2019, my puppies are $1,250, male or female. This is assuming you are spaying/neutering your puppy, which is written into my Puppy Sale Contract as a requirement. $200 will secure your place on the waiting list.
Puppies are AKC registered (limited registration). The babies are covered by my written 5-year health guaranty. They will be current on core vaccines (Canine Distemper-Adenovirus Type 2, Parainfluenza-Parvovirus) and de-worming. Puppies are microchipped, and come with a complete health record. All babies are vet-checked before going home.
When you pick up your baby, you will receive a starter kit that includes enough puppy food for the first few days. He/she will also bring home a toy and puppy treats.
I have a great book available on request: Shih Tzu, Your Happy Healthy Pet (2nd ed) by Jo Ann White. Jo Ann has been breeding and showing Shih Tzu since the late 1960s and is the former president of the American Shih Tzu Club. She has written several books about the Shih Tzu, including The Official Book of the Shih Tzu. I will try and be sure you have this book about 4 weeks before your puppy is ready to come home so you have plenty of time to read it and properly prepare your home and yard for your new puppy's arrival. "Puppy Proofing" a house can be tricky if you haven't had a puppy for a while. This is a great guideline for you.
Congratulations on your decision to adopt a Shih Tzu! This is a unique companion breed, and a loving and devoted family friend.
I look forward to working with you! Julie King, T-Amore Shih Tzu
Spay/neuter is required
---
Pictures of puppies already adopted can be seen on the Waiting To Go Home and Past T-Amore Puppies page.
Karma and Sherpa Ross
Eiko x Hunter
Siblings from

the

same litter!

This is BettyLou Barrone, languishing on her family's sofa and showing off her true nature as a royal pet! Thank you, Sheryl, for sharing this candid shot. It really captures of essence of the Shih Tzu. Julie
BettyLou Barrone
Lucy x Peanut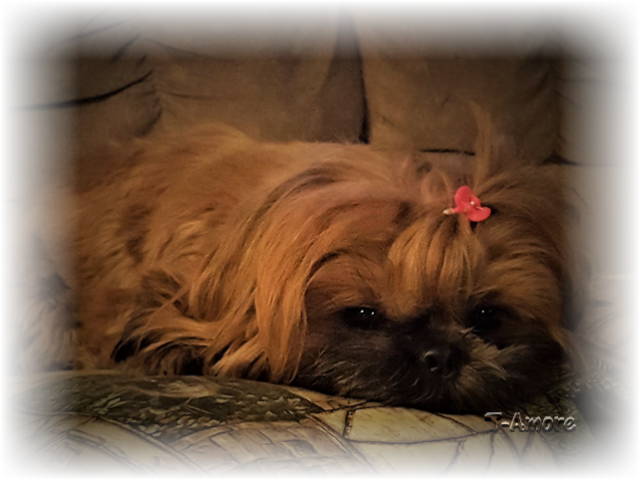 Pamela sent this adorable picture of her three Tzus at her community's local "October Day" celebration. These kids are obviously having a great time! Thanks for sharing, Pam!
Pammie's Tzus
(Left to Right: Hansel, 13, Elliott, 5, and Dhargan, 2)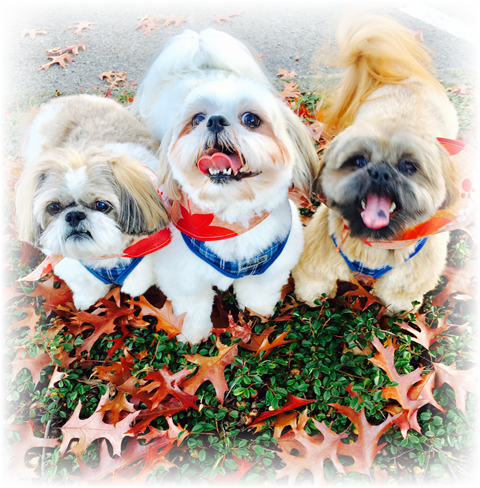 Now THIS is precious!! Thanks for sharing this moment, Wendy!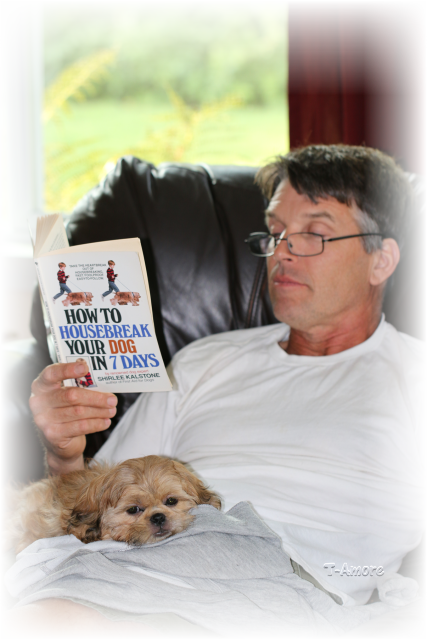 Kathy Boyland sent a wonderful collage of Mocha's 9th birthday celebration. Kathy and Mocha are two of my first "extended family".
Happy Birthday, Mocha, and thank you, Kathy, for sharing this very special event!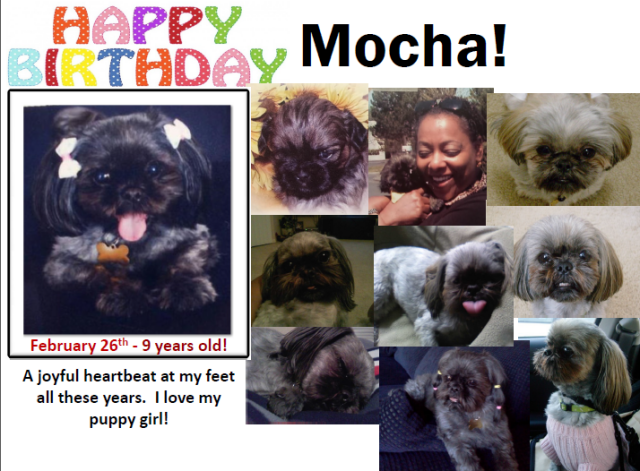 Nema Hudson takes her driving responsibilities very seriously! It's her job to be sure Dad drives very carefully! Nema is the daughter of Katie and Buckaroo and just turned one year old on May 28. Thank you, Mama Melody, for sharing this precious picture with us.

Linda sent in this great picture of "Marley" enjoying the wood stove. Marley is a beautiful example of the Brindle Shih Tzu. Linda has him clipped down so that his brindle markings show clearly. When the hair is grown out longer, the colors blend together and the markings fade. Thanks for sharing this special moment, Linda!

This is Dan with "Toby", a puppy from one of Eve and Buckaroo's previous litters. Toby is a whopping four pounds at six months old. Dan loves to hike, so he purchased a carrier for Toby so he could join in all the hiking fun! On the left is Toby sporting his new puppy cut! What a handsome little man, and LOOK at those beautiful teeth! Toby's a whopping 5 lbs 7 ozs. He's going to be a big boy! HAH! Apparently, according to Dan, there's nothing miniature about his attitude!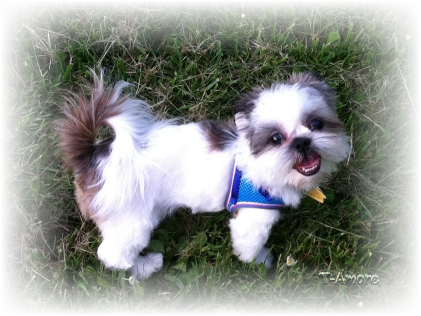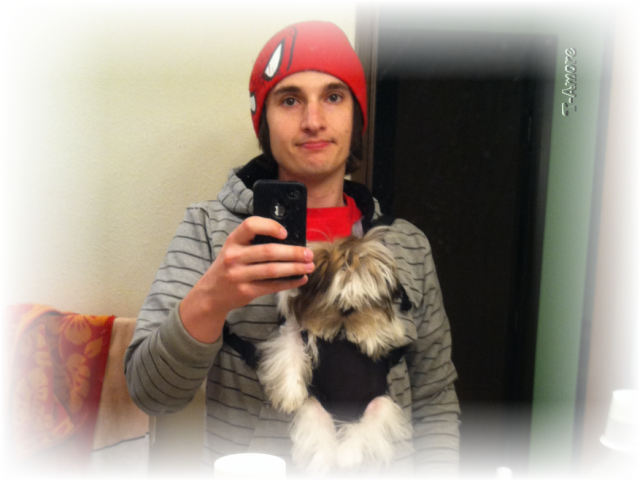 Mia Leonetti (featured on the "Focus On Friends" page) had her first birthday! Kathie threw her a big party, complete with birthday cakes and party hats! What fun!

Brenda just took her new baby, Cricket (Sugar x Teddy 08-17-12) home today and discovered that Cricket absolutely LOVES the Fall leaves in the back yard! Thank you, Brenda! Great picture!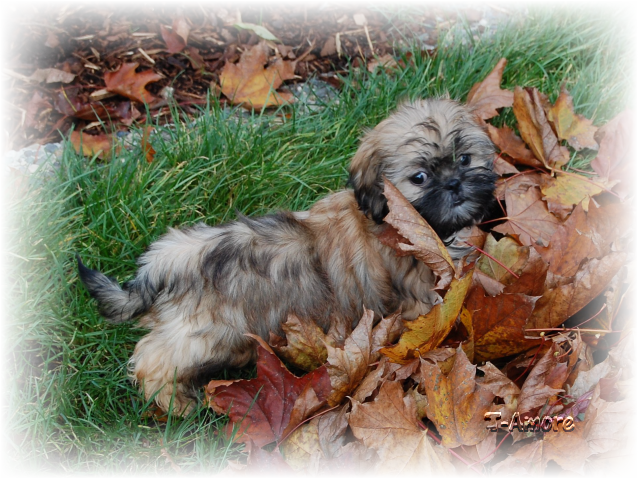 Kathie recently shared this adorable photo of "Mia" ... She apparently loves the warm towels in the laundry basket. Who can blame her? They must feel nice and snuggly after she's finished playing in Kathie's water wand. She loves the water! Thanks for sharing the picture, Kathie.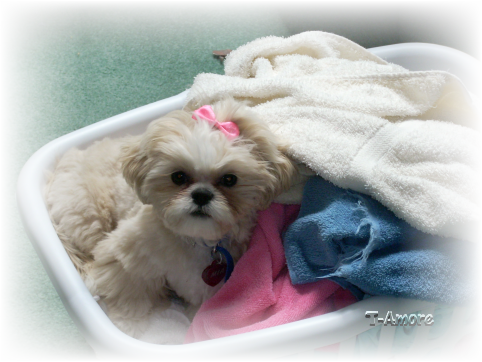 Bella is doing great! I love her to death -- Valerie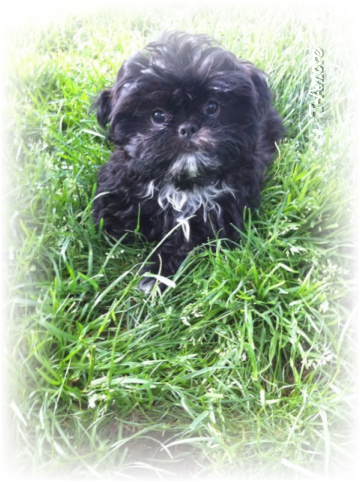 Thank you, Amanda, for sharing this picture of "Chief" (Keesha x Bobby) with his doggie companion, "Emmy".
Snapped this picture today, it was too cute not to share. Chief has fallen in love with Emmy, or maybe just with torturing Emmy. She puts up with him pouncing, biting, tugging and skiing off of her tail. Occasionally I'll find them all curled up in nap time mode so sweet. He keeps the old lady young at heart! Emmy is an Old English Sheepdog, she's 11 this year, and her body is not keeping up with her as well as she would like, but she tries to play with Chief when she gets the energy.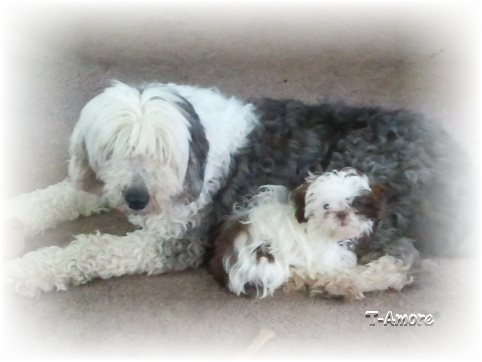 Donita captured a pensive moment ... "Hope" (Gracie x Buckaroo) seems to be daydreaming about all the wonderful things out in the yard. Thanks for sending this in, Donita. She's beautiful. Julie

Linda shared this special moment with us. "Roxie" (Keesha x Bobby) got into gardening mode with her new Mom. Linda tells me she loves to chew on yellow tulips!
Julie, Roxie has been "gardening"---plucking off tulips and carrying them around. Has met the neighbors and is a delight! Linda

My toughest pillow critic, Tina, says "four thumbs up" for the IKEA Stockholm pillow! It's the feathers that make the difference.
Spoilt ROTTEN!! [Smile]

I love this picture that Anna sent of her and Paddington going for a walk. It really represents the true nature of a Shih Tzu's attitude! You have to ask yourself, who is walking WHO here! Thanks for sharing this special moment, Anna.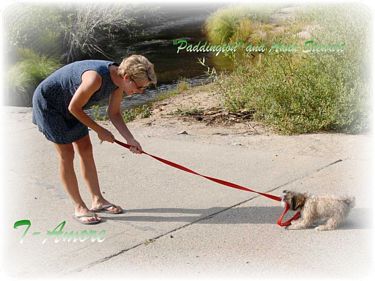 Why Twelve Weeks?
Click here to read the article published by The American Shih Tzu Club, the foremost authority on the Shih Tzu breed
I keep my babies until they're 12 weeks old, as recommended by The American Shih Tzu Club. While I know that seems like a long time to wait for your puppy to come home, they are better developed emotionally and more physically robust.

Little "Oliver" meets his new Mom and Dad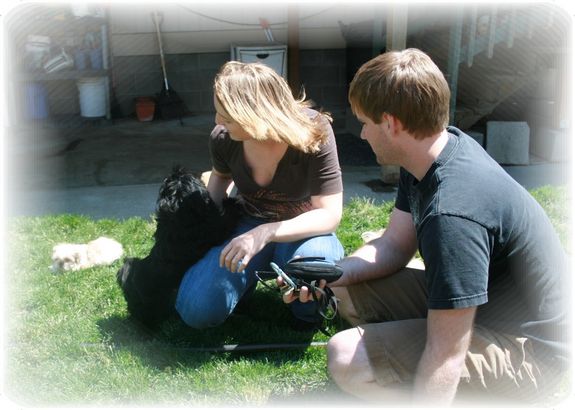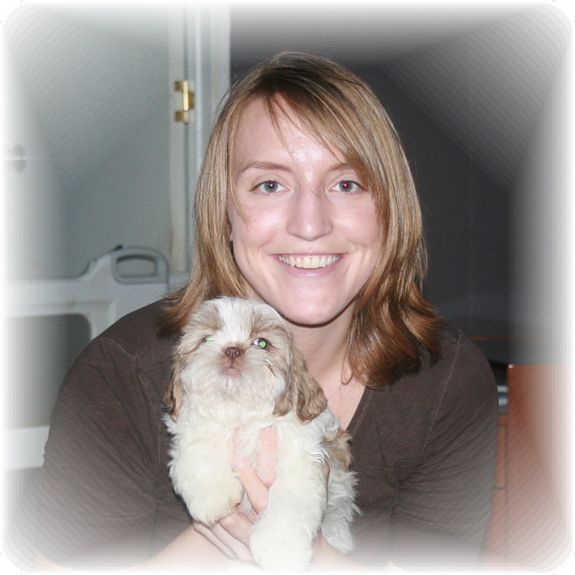 Be sure to call (541-993-4860) or e-mail me if you have questions!
All content is the exclusive property of T-Amore Shih Tzu