---
I want to thank you for her. She is beautiful and she is my little mop. All house broken holds her own but timid. Do not know why. Call me crazy if you ever get that black and white little girl on small side let me know. You know I am good for it. Take care of you and puppies in your snow. Again thank you. Always, Margaret
"Chenin Blanc"
(Katia x Buckaroo)
Margaret W. - Dec 2016
---
Hi Mama Julie!
I have been so busy learning about my new home. So many new sounds & smells....Thank you for the yellow crinkle toy it's one of my faves! I also love my chicken toy mommy gave to me yesterday, from you. It was my special toy when she had to leave me a little in my carrier. I did a good job. Later, I saw Java licking my chicken toy & I'm not sure how I feel about that. He has these yummy peacock feather toys and I want those to be MINE too.
I'm learning to be 'one' with my leash. I've figured out how to carry the metal latch in my mouth so it doesn't drag.
I'm doing OK on potty training. I wake daddy in the night when I have to go-yeah for me! Yesterday I had a couple peepee accidents inside,but today's off to a better start-yeah for me again!
I love this thing called a broom...it scoops all the junk on the floor together. I try to help keep the floor clean when I can by licking up pine needles & such but I don't think mommy appreciates my help
Ok, Mama Julie, mommy says she will write you soon-probably after I meet my new doctor on Sat. Say hi to Lucy, Peanut and all my Moro family! Bandit
"Bandit" by Trish - Jan 2017
---
Hi Mama Julie,
It was such a long car ride to my new home! When we got here I was so excited to meet my new brother Java(my tail was spinning really fast) ["Java" is his new family's Persian Kitty - JK]
he's all black and has a smooshed face just like me!! There was so much to do when we got home....mommy and daddy kept taking me outside but I just couldn't go potty or anything. I did eat my food. Sooo many things to look at and smell-all the smells and sounds,oh my mama Julie so much!!
Ooopsie, I didn't want to throw up in the car and tried and tried to hold it but could not ...so I buried my head in my new bed and it came out. But after that mommy had paper towels ready in case it happened again-it didn't.
I miss all of you. Thank you for loving me and taking good care of me. I'm getting use to my new home this morning-I like it! Naps with mommy & daddy, wondering who the other cute doggie is(spoiler-it's my reflection in the fridge),smelling Java & watching him show off-wow he can jump!
Happy New Year Mama Julie! Give Brigid a hug for me.
Love
Bandit The Red Panda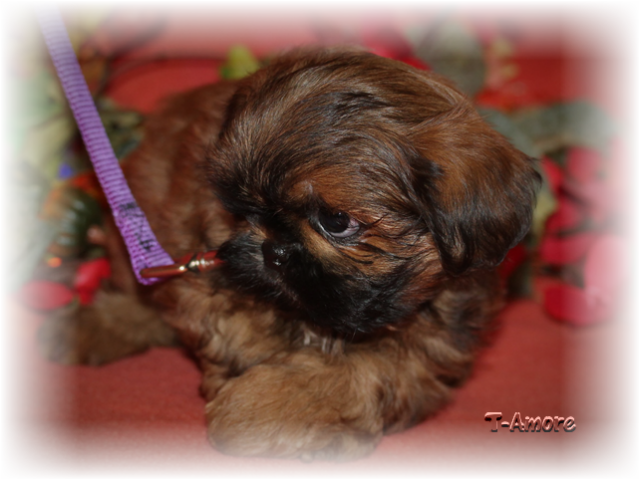 "Bandit" by Trish
---
A before (left) and after (right) picture of "Sammie" (Cindy x Dorje 10-05-15). She has just returned home from the groomer's with her first puppy cut. Adorable!! Thank you, Brenda, for sharing this sweet picture! Julie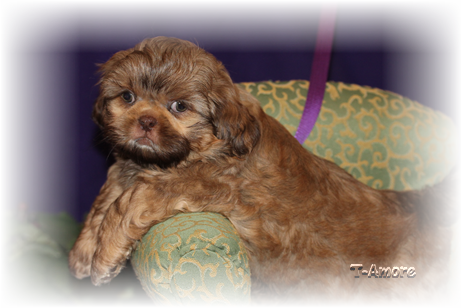 Brenda C. - Dec. 2015
---
Emma's first Christmas
Thank you for my little bundle of joy!
Lois
Lois G. - Christmas 2015
---
One Year Ago ... I was a completely broken woman. Mandi had been gone for 24 hours, my pain was overwhelming and then met you and you sold me a little black bundle of pure joy.
Ellie
I became a whole woman again....and it's all because of YOU. [I'm passing along the credit to Ellie ... Julie]
You will be blessed in heaven one day Julie. I know there are probably thousands of happy fur mom and dads out there who you helped just like you helped me.
Donna subsequently decided one wasn't enough and adopted "Maxwell" a few months later, a solid WHITE bundle of silky hair. Ellie and Max make quite a pair!
Donna calls this "Maxwell In Repose"
And here are the two little "opposites" enjoying their couch together. These two dogs are definitely pampered!!
Ellie and Max Relax
All snuggled up in their favorite spot!
Donna - Birch Bay, WA Dec 2015
---
Hi Julie,
Just had to send you this cute picture. Kiku is doing fine - slept through on her first night! In fact I woke her up at 5:30 am because I was checking to make sure she was breathing (ha ha … just like a parent of a newborn)…
Also, I took Kiku to the vet and she (actually you) got compliments on her complete records, the microchipping, AND the darling haircut :>)
Thanks for this darling, funny, girl!
[Note: Kiku is the daughter of Dolly and Tango, born July 28, 2015.]
Carole M. - Vancouver, WA Oct 2015
---
As you can see she really gets into it!
Hope all is well with you. We are doing great. CrazieGracie is growing like a little weed, constantly into mischief and as loveable as can be!
Click here for video of Gracie singing "opera"
(may take a minute to load)
Susan S. - Boise, ID Oct 2015
---
Here's a picture of little Gingersnap on my bed chewing on the bunny. We keep telling her to not chew on Bunny, but I think she figures since Oliver chews on her, it's okay. You-know-what rolls down hill!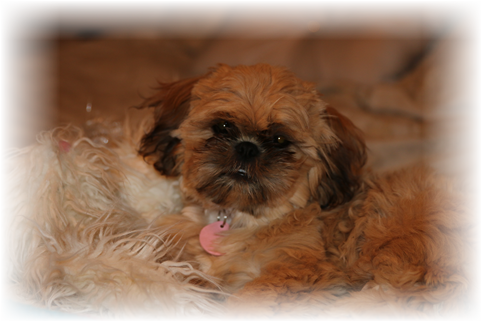 [Note: "Bunny" is Oliver's toy, and Oliver is Wendy and Cliff's Standard Poodle. They make quite a duo!]
Wendy D. - Eugene, OR, Oct 2015
---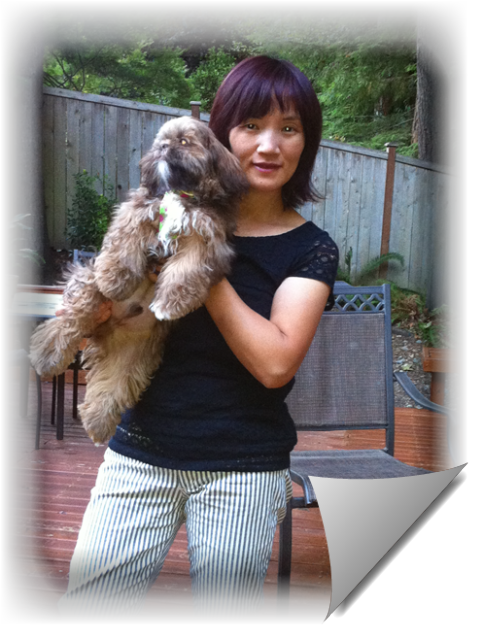 Hi, Julie,
Cocoa is 6 month, a perfect and healthy little dog:) he brings lots of joy to my family, he loves to have haircut and shampoo by his Mom.
Yumei F. - Seattle, WA, Sep 2015
---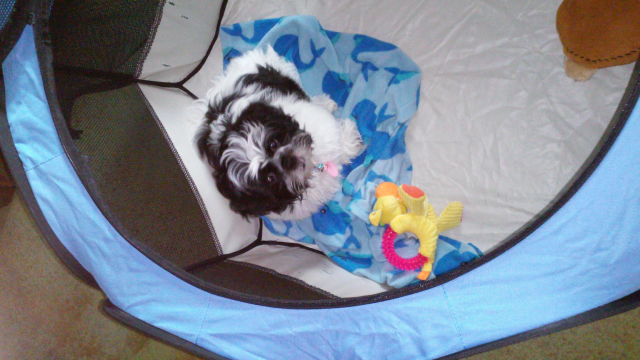 [Y]ou are a master breeder!!! Besides riding the whole way home on my lap, not crying or barking, he did his stuff outside when we came home (although it is hard to tell when he's peeing since he rides so low). Our neighbors came over last night and we were sitting around the kitchen table eating, drinking and talking with the playpen right there. He played with his toys and then fell asleep. We did wake him up so he would sleep last night. Which he did!! Put him in his kennel in our bathroom at 10. He barked a lot at first, but that was because he had to pee, which he did on his pee pads. After that, he laid down and didn't make a sound all night. I woke up at 6:30, went in and he was awake, but he still didn't make a sound. I took him outside and he did it all. He's now in his playpen, playing with his toys. I think he knew that this was where he was supposed to be.
Marilyn H. - Richland, WA, Aug 2015
---
Hello Julie. I've been meaning to check in for a couple of weeks to let you know how our boy Lincoln is doing. It is amazing that he is now 20 weeks and we just scheduled him for his neutering appointment on December 3rd. ... He is approaching 8 pounds and nearly as big as his sister. I thought you might enjoy a couple of pics. He is such a little sweetheart. More soon. Thank you again for helping us with this little joy. Maggie
[Note: Porsche is Margaret's older female "Tzu" and little Lincoln joined her recently from T-Amore.]
Margaret A. - Beaverton, OR, Oct 2013
---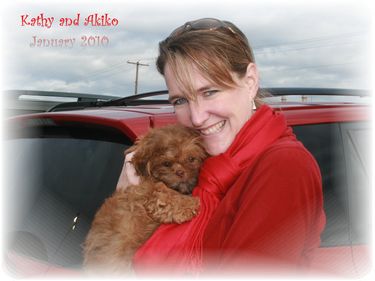 [Akiko] is doing really well! The first night, he made a little fuss when it was bedtime, but not bad. The second night, my husband was home and Tony, Akiko, and my son Bryce were playing and laughing. So...when bedtime rolled around, he was a little more vocal. :( Last night, when I put him in his crate to go to bed, he didn't even make a peep! He has definitely wormed his way into all of hearts. I think that my son, Bryce, is going to be his favorite. They play so much together. Kiko loves him and I know the feeling is mutual.
Again, thank you so much! He has brought so much joy to our family in just the last three days. I can't wait to watch him grow and develop his personality! We also can't wait to take him on some adventures this summer! He is a GREAT addition to our family!
Kathy N. - Meridian, ID
---
It was a delight to purchase a puppy from Julie's T-Amore Shih Tzu. She found the perfect puppy for me and I was very pleased with the Airlines she used to ship her to me. My puppy, Tasha, is everything Julie said she was and even cuter then her pictures!
Jan C. - Escondido, CA
---
Dear julie, thanks for everthing. Elizabeth and the boys are soooo happy with little Makyla .... she is the perfect puppy for them .... Hope you are feeling well .... all the pups here are great ... Tucker is such a sweetheart ... and Makena sure loves tackling him every chance she gets .... they are great together ... Take care. Hugs Cheryl
Cheryl B. - Santa Paula, CA
---
Hi Julie ... we sure are having fun with Izze, she's a very cute little girl, and of course Bill is very attached! She's a very healthy little girl - will get her fixed soon. Can't think of all the things I wanted to tell you about, but just wanted you to know how much we love our little Izze girl and that she has a very good home.
Marlee G. - Hood River, OR
---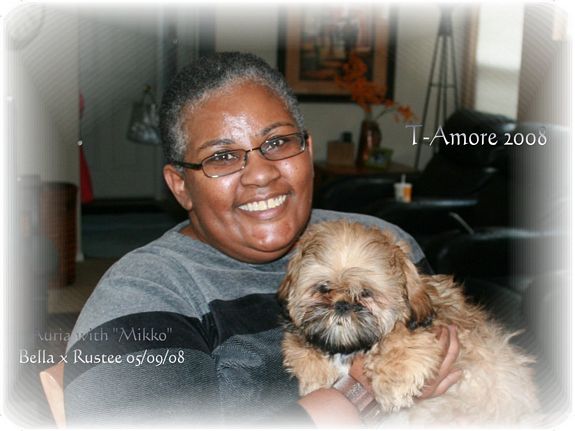 Top of the mornin' to ya! Hope you had a good trip home. Mikko had a great time meeting Natacia and Marcianna yesterday. She follows all of us around and we played and went outside in the yard, and later I took her for a walk - actually she took me for a walk - hahahahaha! She slept in my room in her crate all night. She did very well and didn't cry at all. Actually, I wish I had a camera because she slept most of the time on her back right next to my bed - of course little Marcianna wouldn't dream of being in her own room last night, so she hopped in the bed with me and after a short time of wagging her tail Mikko went right back to sleep.
The vet and staff said you're a very responsible breeder for getting her shots all done and getting her microchipped - they say so many puppies come in there at Mikko's age and don't have anything done yet. I love my baby - I hope I don't spoil her too much!!!!!! We all love her. Kathy can't wait to see her! The folks at my job loved her and want her to come back next Friday - Friday is casual day. We'll see how it goes. I could really get used to finding a reason to bring her into work - she sits right next to my desk and plays or sleeps and when my staff comes in she wags her tail, gets lots of pets and follows me around like clock-work! I've been emailing all my friends! I LOVE MY BABY!!!!
Auria V. - Renton, WA
---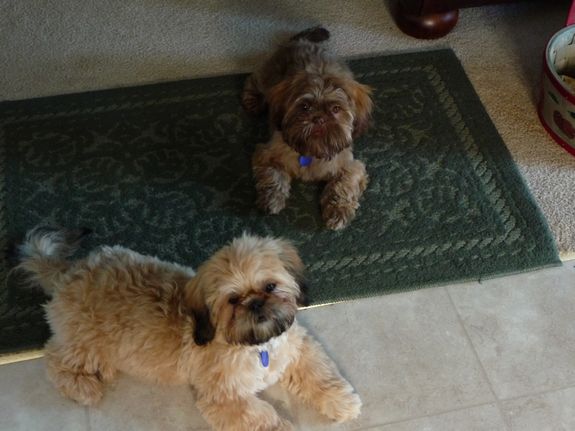 Hi Julie! I just wanted to let you know that Jackson & Mocha met my vet, Dr. Meyer, yesterday and he said they look great! He complimented you on your record keeping and the great job you did on breeding them. They also dropped in and met the groomer today and had lots of hugs and kisses.
Lori H. - Woodburn, OR
---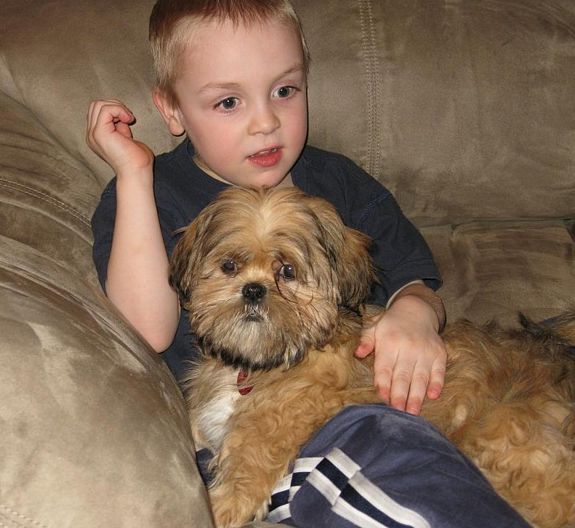 Hi Julie - I hope all is going well for you - it's been crazy busy, but just wanted to touch base with you and let you know how much happiness our little Scooby has brought to our lives! He's such a funny puppy - he's got us laughing all the time - he's just such a little love. Here's a recent picture of him with our son, Gabe … They usually end up in a heap on the grass, Gabe laughing and Scooby licking him like crazy! Take care!
Lisa W. - Bellevue, WA
---
Hi Julie! Wanted to send an update on Buster! I am very sorry it has taken this long to send you an update! First, thank you soooo very much for the care package you sent. That rubber chicken is one of his favorite toys (one of the pictures attached)! Buster is doing well and growing up! He is up to over 9 lbs now and has already had his 2nd haircut! His baby teeth are falling out right now. He has lost about 4 in the last week! He has adjusted well to our work schedule too! We are still crate training him. He sleeps in his crate (with blanket) at night and during the day when we are at work. I come home every day for lunch and let him out to play a little while and take care of his business. Then we come home around 5 - 6 and he has done fine. He comes out of his crate for the evening to play with us and Ladybug. He is keeping Ladybug young! They run through the house chasing each other. Of course we give Ladybug a rest and play with him too with all the toys --- he is not too picky! ... He still has all his good habits you started on him too! He does fine in his crate in the car when we go to the vet and he does well with brushing (his feet too!). He loves people! We are trying to keep him socialized with people and pets too. We take him to races (my husband runs) and Buster and I watch and mingle with all the other spectators. He has been to 3 races this spring! Everyone dotes on him and you can tell he loves every minute of it! Most people say he looks like a little Ewok from Star Wars move. I attached a picture of this too! Again, thank you for all that you do for these little darlings ... It is so very apparent how much work you put into them!
Lori S. - Houston, TX
---
Spike is doing very well! He's getting so big and energetic. He is probably the most spoiled of our boys, and is very vocal about letting us know he's not getting his way. He doesnt like jumping which is a good thing in some ways, but he barks to let us know he needs to be picked up to get on or off the couch, and he gets upset if someone doesn't come right away! It's so cute, except for when he follows somone to the bathroom and barks outside the door till they come out! Everyone still thinks his bark is adorable and he's sweet and affectionate, so he's still never been in trouble. Wesley and Angel have finally made friends with him and they all run around the house together. ... he's doing good and I'm trying to get into a puppy training class in May. Hope all is well with you and your furry friends!
Sonia G. - Fairfield, CA
---
Hi Julie, I thought you might want to know how one of your "babies" was doing. Misty is doing just great. She has been a real delight and I think she is happy and acclimating well also. She has bonded great to me ... We walk at least several miles a day and she gets exercise (good for me too!) and is experiencing new dogs, kids, and people. We will start dog training in a small class this week ( the "parents" went on Sunday). ... I will try to control my feeling of -- "god help whoever hurts my girl!" It will be good socialization though I know. I appreciate your insight that we would make good companions --and wish you the best.
Jan M. - Lake Oswego, OR
---
Hi Julie, It has been some time since I last talked to you so I thought I'd send you a picture of Alfie and let you know that he is doing Fantastic! He and Rudy run around and play a lot in the house, but Alfie seems to have found an attachment to my cat. They chase each other all over the back yard and seem to have a good old time. I've been trying to get a picture, but they are to fast for me so far. At night the cat comes in to get out of the cold. He has a favorite chair that he loves to sleep in and Alfie will sometimes jump up and lay on the foot stool ( picture enclosed ) just so he can be near. The squeaky chicken that you sent him with is his favorite toy. I always know where his is by the distinctive sound of that da-n chicken LOL. He makes me laugh all the time with his antics. He is such a love and I get so much enjoyment from him. He has fit in so well and has been a true joy! Thank-you, Thank-you, Thank-you! I will talk at you again soon. Sandy
Sandy P. - Morton, WA
---
Jana and Julie had their first Christmas with "Lyric" (Maizie and Tango 01-27-15). What a nice family photo!
Jana and Julie - Christmas 2015
---